Lotto Tickets Online
Almost every lottery in the world presupposes the acquisition of a lottery ticket in order to participate in the draw. Lottery tickets come in many forms and sizes, some need to be actively filled out, some others are purchased with the lottery numbers already preprinted. The costs of a lottery ticket depend on the numbers of panels played and if the player wants the ticket to participate in additional lotteries or raffles.
This article is intended to give a short overview over the different types of existing lottery tickets, the advantages of buying lottery tickets online, how to check them and some legal advice to prevent players from buying fake lottery tickets. It also describes how a player can win a prize in an instant with a scratch card.
How to buy lottery tickets online
In order to buy a lottery ticket online, players have to create an account on the lottery ticket retailer's website. It is thus even possible to purchase a ticket of a lottery of a country, state or region the player is currently not living in. The ticket retailers may vary in some points in their terms and conditions, but the procedure is usually the same. The operators of the websites do not directly sell a ticket to their customers, but rather submit the picked numbers and place an order at the lottery on their behalf.
It is usually required to leave personal data such as the player's first and last name, place of residence, a valid e-mail address and bank account, credit card or debit card information. In case a lottery ticket hits a cash prize, the e-mail address is used to send winning notifications to the players. The lotteries usually credit smaller prizes directly to the winner's user account, so that he can use the money to purchase further tickets or online scratchcards. Large sums of money on the other hand are directly transferred to the bank account after the deduction of tax.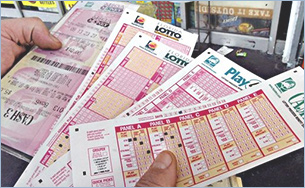 Of course, paying a lottery ticket purchased online in cash is not possible. The websites of online lottery ticket retailers usually offer different payment options for this reason. The most common ones are:
Credit Card
Debit Card
Direct Debit
PayPal
Webmoney
Skrillex
and many more
The advantages of buying lottery tickets online
Lottery tickets are the player's admission card into the hunt for millions. However, even if the ticket does not hit the grand prize, it still can be worth a fine amount of money. For centuries, players all over the world had to go to lottery shops and terminals in order to buy a ticket. This procedure got a lot easier with the invention and the rapid dissemination of the internet into every part of the globe.
By now, to buy lottery tickets online players only have to start up their personal computers and do not even have to leave their houses anymore. For the following reasons, playing Lotto and checking the results from home has become the most comfortable way of playing the lottery:
Players do not have to leave the house in case of bad weather conditions
Lotto and other games are available at any time at day and night
Closing times of shops and terminals are therefore not relevant
Playing online is usually more favorable due to special offers and promotions (e.g. "Pay One, Play Two")
Online ticket retailers often charge lower processing fees
In addition to the aforementioned advantages, the possibility of entering a lottery, which is not available in a particular region or country, is one of the biggest reasons for many players to play online. For example, inhabitants of a European country have thereby the chance to buy a lottery ticket of the big lotteries of the United States of America. Both, PowerBall and MegaMillions promote jackpots in a three-digit million range on a regular basis. Even the big multinational lotteries from Europe – Eurojackpot and EuroMillions – are not able to keep up with these jackpots. The lottery SuperEnalotto from Italy provides jackpots every once in a while, but the odds of winning them are simultaneously very low because players have to match six number out of a pool of 90.
Lottery tickets purchased online are furthermore assignable to a user account without any doubt. That cuts the risks of losing the ticket down to a minimum and it is guaranteed that a player receives his well-deserved prize. Contrary to this, offline lottery agent's shops grant the prize to the player who is in possession of the lottery ticket, regardless of whether he is the one who originally purchased it.
How to check the tickets
Another benefit of playing lotto online is the possibility to look up the results in only a few seconds. For that purpose, almost every website uses a special plug-in that really eases work for the users. The lottery tickets checker operates in two different ways. Players can for example fill in every single number on their lottery ticket by hand and the plug-in will check whether a line won a prize or not. Alternatively, because this procedure is very impractically when a high number of lines are played, they can only fill in the individual number every single ticket is provided with. With this plug-in, players also can check if their actual lottery numbers would have won a prize in a previous draw. However, this is only a nice gadget and has no further practical use.
The lotteries also send notifications to players who do not have the chance to use the plug-in, but still want to know, whether their numbers won a prize or not. These notifications are usually send via e-mail free. If a player wants the lottery the send the notifications as short message on his mobile or smartphone, he has to compensate for any costs. Cash prizes do not have to be accepted by the user. Depending of the amount of money, they will be automatically credited to the user's account on the website or his bank account.
Online scratch cards
Most lotteries use scratch cards to offer the possibility of winning instant prizes. The scratch cards usually do not cost very much, but players still have the chance to win four or five figure amounts of money in only a few seconds. Therefore, the players do not only visit their websites once or twice a week to submit their filled out tickets of regular Lotto games, but come back frequently to play. It is for the lotto companies easier to advise the players of currently running promotions or advertising campaigns as a result.
Scratch cards exist for about 40 years and ever since, the principle of these cards has never changed. The paper-based tickets contain different kinds of symbols, numbers or pictures, which are hidden under a layer of latex at the beginning. The play is unable to see through the layer of latex and has to choose, which panels he wants to reveal by scratching the latex off. The amount of panels he is allowed to reveal is predetermined and varies from lottery to lottery. If he matches for example three identical symbols, he wins an instant prize. This could be for example a small amount of money, another scratch card, a short vacation, a car and even a jackpot up to £4 million (National Lottery of the UK). The scratch card is only valid, if the player scratched off not more then the predetermined amount of panels. Players are of course allowed to reveal the remaining panels to see what prizes they could have won, if the scratch card did not hit any prize at all.
The scratch cards that are available online since about 2010 are of course not physical. Players need a working internet connection and an user account on the website they want to purchase the scratch card. The scratching is simulated using Java or Microsoft Flash. The online versions of the scratch cards work more or less like the physical cards. Players have to reveal a predetermined amount of panels or hit a certain symbol in order to win a prize. The wins are also instant and if it is a cash prize, it will be directly credited to the player's user account on the website or his bank account.
The National Lottery UK Scratch card game for example features three different games. If the player finds a jewelry symbol, he immediately wins the amount of money shown in the symbol right next to this symbol. If he reveals a moneybag symbol, he wins the exact amount of money shown in this symbol. Finally, if he reveals the same amount of money for the third time, he wins one of those amounts. Tickets are sold at gas stations, supermarkets, newsstands and online. The odds of winning a prize at all are approximately 1 in 4.15; the lottery offers the following prizes:
£2
£4
£5
£10
£20
£40
£100
£200
£1,000
£5,000
£250,000
Legal situation of internet lottery tickets
While online gambling on websites run by private companies has become more and more popular over the last decades, governments of most countries simultaneously tried to protect their own lotteries by passing different laws against gambling on the internet. Players were therefore bound to stationary lottery ticket selling shops to play the lotteries offered in their own country and a lottery located in a different country as the player, who bought the ticket online, would often not pay out the cash prize.
Only due to an alteration of the treaties concerning online gambling by the governments of several countries in Northern America and Europe, it has become a lot easier for players to play Lotto and other games online. Players now have the possibility to choose between the official website of the lottery and the websites of private, lottery ticket selling companies, if they want to purchase a lottery ticket. Trustworthy providers of lottery tickets have a seal of approval on their websites, proving that they are officially recognized.
It is furthermore completely safe to play Lotto over the internet. Lottery agencies use cryptographic protocols, such as Transport Layer Security (TLS) and Secure Sockets Layer (SSL), in order to encode the player's personal data and all other information. They are therefore protected from external intrusions.
Fake lottery tickets
The internet is not only a place, where players can purchase lottery tickets and win cash prizes easily, it also attracts fraudster and scammers that only want the players money. The act of fooling a player out of his winning ticket is nearly as old as the game itself. The winning ticket only has to be replaced with a blank one at the counter of a store or market and an associate of the employee later cashes it in. Switching a scratch card is of course not as easy as switching a ticket of a traditional Lotto game, but scammers have been very inventive in the past.
Scammers on the internet usually use spam mails and fake websites to trick players out of their money. Probably every person in the world with an e-mail account has received an e-mail saying: "You are the lucky winner of the grand prize! Please contact the hotline." at least once in his lifetime. Of course, there is no grand prize and the player's phone bill will be debited with a high amount of money the following month. Fraudsters use the same trick to make players believe that they won a big prize with their scratch cards. Their might even be a prize, but the value of it is not nearly as high as the expenses entailed by the phone call and the time the player was on hold.
To avoid being deceived of their money, players should always and without exception buy scratch cards and lottery tickets on trustworthy websites. As described above, such a website can be recognized by a seal of approval and a license of a governmental institution.