Lotto Online – easy and safe
The thought of winning Millions in the lottery and never having to work again has been fascinating players all over the world for centuries, which is understandable for many reasons. On one hand, it does not require any special skills and is completely based on luck. On the other hand, with the input of only a little money you can easily win six- or seven-figure sums. The principle of the game is furthermore intelligible to all. You just pick your lucky numbers, star numbers, sequences of numbers or whatever is required and wait until the results of the draw are communicated. Most draws are broadcast live on television or streamed on the internet, watching it and comparing your own numbers is therefore always connected with some kind of thrill and excitement.
While lottery players had to buy their tickets in shops, gas stations or kiosks for ages, lotto nowadays mainly is played via the internet. The advantage of this is that you do not have to leave your home on rainy days, can play relatively spontaneously without being reliable on opening times of the lottery agent's shop and can play a variety of lotteries, which might not be offered at your locals shops. It is thus possible to play big multi-national lotteries and even lotteries located in other countries than the country you currently live in.
Play lotto online – how does it work?
Due to the reasons named above, playing the lottery online has become very popular amongst players in the last couple of years. But what do you have to do in order to play lotto online? First of all, find a trustworthy provider of lottery tickets. Many lotteries – for example EuroMillions – have official websites where you can buy and fill out your lottery ticket. Additionally, there are other, non-official websites where you can buy lottery tickets. These websites generally do not appear as a lottery agent, but rather deliver tickets to lottery agents on the player's behalf. On these sites, you are normally able to choose to buy lottery tickets of many different lotteries and are therefore able to join the hunt for multiple multi-million jackpots.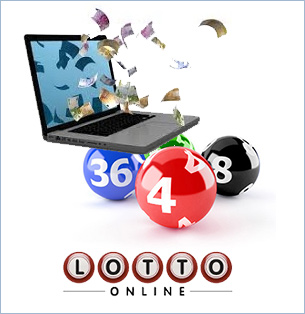 For whatever option you decide, you will always have to sign up in order to play lotto online. Signing up requires the following data:
a valid email address
personal information (first name, family name, date of birth etc.)
bank account information
credit card information
How to pay for the lottery ticket
Because you cannot pay your lottery ticket in cash like at your local lottery agent, you depend on other payment methods. Luckily, the internet offers a broad range of possibilities, for example:
PayPal
Google Checkout
Credit Card (American Express, Visa)
Direct Debit
Debit Card
Paysafe
sofortueberweisung.de
Normally, after each draw you will get an email from your lottery agent to inform you whether your lottery ticket won or not and how much money you receive in case you were lucky. However, you can also watch most lotteries' draws live on television or the internet and check up the results on the internet, local newspapers or teletext. While there are various methods offered for you to pay your ticket, the method of paying winners out is nearly the same in most lotteries. Up to a specific amount, the lottery will credit the sum to your user account. If the prize money is above the limit, after contacting you personally it will be automatically transferred to your bank account. An experienced consultant is sometimes appointed to winners of huge jackpots, if they need advise on how to deal with the money.
The advantages of playing lotto online
Playing lotto online is the most comfortable way imaginable to play lotto. You only have to boot up your personal computer and connect to the internet. Within seconds, you are now able to choose between a large number of different lotteries, starting with smaller local ones up to multinational lotteries with jackpots sometimes in the region of hundreds of millions. It is therefore even possible to play lotteries that are not offered off-line at your local lottery ticket provider.
You can play lotto online at any time at day and night without having to wait until the stores open. Online lottery retailers offer longer terms of acceptance, so that you can buy a lottery ticket even minutes before the draw takes place, while the terms of acceptance of off-line retailers mostly end about an hour before the draw.
After submitting your lottery ticket, besides waiting for the results you almost have to do nothing. The lottery ticket retailer will match your lottery ticket with the results of the draw and send you an email with a winning notification afterwards. The amount of money you win is then automatically transferred to your user account or bank account, as described above.
Most of the time, playing lotto online is a little cheaper than buying a lottery ticket at an off-line retailer. That is on one hand due to the fact that you do not have to pay as many fees as playing off-line and on the other hand because online retailers often advertise their services with different attractive offers. For example, you might be allowed to pick two lines of lucky numbers while only paying one or you are able to participate in special events for free, where you can win additional cash prizes and other prizes, like cars or holidays.
Online retailers of lottery tickets provide you also with a lot of additional information about previous draw events. You can call up statistics on how often a number was drawn in the past or look up the results of earlier draws. This information can be very helpful and will maybe lead you to the perfect sequence of numbers that wins the multi-million jackpot. Sometimes you can even check if your current ticket would have hit the jackpot in earlier draws.
What to keep in mind
Playing lotto online in general is completely safe, as long as you choose trustworthy ticket providers. Trustworthy ticket providers have different kinds of seals of approval on their websites and can hence be easily spotted. A very common seal of approval on the internet that is mostly used by online shops is the European Trustmark Trusted Shops. Governmental institutions, such as the Gibraltar Betting and Gaming Association (GBGA) or the Curaçao Gaming Licensing (CGL), mostly award seals of approval for online lottery ticket retailers. There are also a lot of independent organizations like the Gambling Portal Webmaster Association (GPWA), the Association of Players, Casinos and Webmasters (APCW) or the Gambling Industry Association (G.I.A.), to only name a few. If you find any of these organizations' or institutions' seals of approval on the website you want to play lotto online, you can be sure that you are going to purchase a lottery ticket from a reputable retailer.
Due to the licenses of other countries, it is especially in Europe legal to play online lotto. That has not always been the case; in Germany, for example, it is only possible to legally play lotto online since 2012. Though playing lotto online was possible in the years before, because of the missing seals of approvals by a governmental institution you could never be sure, whether the private lottery ticket retailer would pay out the money or not.
Security measures
Although it is necessary to submit personal data in order to create an user account, you can be certain that no other person will ever have access to your information. For this reason, online lottery ticket retailers use cryptographic protocols like Transport Layer Security (TLS), better known under its old name Secure Sockets Layer (SSL). At the moment you connect to the client a unique key is created, which is now used to decrypt all data send from the client to the server and from the server to the client. Strangers are therefore detained from committing any form of attempted fraud or abuse with your personal data. If a website is secured by a TLS/SSL protocol, you will see a picture of a padlock in the address or location bar or a small key on the right side of the status bar of your browser.
The recording of personal data is only necessary during the time you use the services of the lottery ticket retailer's website. Unless it is necessary for the allocation of services and products related to the lottery, personal data is never submitted, sold or passed on to third parties. Most lottery ticket retailers confer the right to check up your collected personal data at any time and will delete it, if you demand. If you choose to delete your collected personal data, normally you are not able to use the services of this ticket provider anymore.
Tax situation – where does all the money go?
Depending on the country you live in, you might not get the completely advertised amount of money even if you win the grand prize. While you do not have to pay taxes on your winnings in the lottery in Germany, but on the interest earnings, other countries like the United States of America, Switzerland or the United Kingdom might collect up to 30% of the money you won in taxes. The amount of money you have to pay even increases up to 40% if you win in a lottery as a foreigner.
However, just as you will not get the whole amount of the jackpot's sum, not all of the money you pay for a lottery ticket goes into the price money. Most lotteries remit only about 50% of the costs of a lottery ticket into the jackpot and lower prize levels. Nevertheless, what happens to the other 50%? A part of the money is used to cover the operating expenses; also, your lottery ticket retailer receives a commission of about 7% to 10%.
The rest of the money – between 20% and 30% – now is either donated to charitable organizations (e.g. Lotto 6 aus 49, Spiel77, National Healthcare Lottery) or is used by the country's government to support educational programs, cultural and environmental institutions, athletes and the well-fare (PowerBall, MegaMillions).
The history of lotto
Playing lotto was of course already possible before the invention of the internet. Even before the first draw event was broadcast live on television, forerunners of the modern lottery system were played by cultures all over the world for over 2,000 years. The oldest keno slips date back to the Han Dynasty that ruled China between 206 BC and 9 AD. It is believed, that the money raised by the selling of lottery slips was partially used to cover the costs of the construction of the Great Wall of China. In a similar way, the first emperor and founder of the Roman Empire, Augustus Caesar, reinvested the proceeds of the selling of lottery tickets for the renovation of the City of Rome. Chinese immigrants brought keno lotto to the United States of America at the beginning of the 20th century.
The first time, lotteries comparable to modern lotteries were held, was in the 15th century in the Low Countries. They sold tickets, offered money prizes and used the revenues to support the poor and for different public usages. The oldest running state-owned lottery is the Dutch Staatslotterij. At the same time, Lotto also became very popular in the Italian Republics of Venice and Genoa, where the French King Francis I of France encountered this sort of gambling for the first time. Queen Victoria I launched the first lottery in the United Kingdom in 1569, after experimenting with raffles and other games. Germany's first big lottery draw was held in Hamburg in 1614, Austria followed in 1751. The sanctioning of over 200 lotteries in the United States began in 1744; the money was used to build schools, churches, roads, libraries, bridges etc.
How is lotto played nowadays?
Playing the lottery is popular more than ever. Players can choose between a large number of individual lotteries and thanks to the internet, they do not even have to live in the country the lottery is based in. Playing lotto is possible at any time at day and night and you can easily find the lotteries with the highest current jackpots. You do not even have to pick your numbers by yourself anymore. Generating random numerical sequences is not only faster, it also prevents you from picking alleged lucky numbers, like dates of birth or the numbers 7 and 13. Still, especially older people prefer the traditional way of going into the store and buying a lottery ticket. Surveys show that the internet is not a place for them to deal with money. However, as seen before, thanks to modern technologies it is completely safe to store your personal data and even your credit card information at the lottery ticket retailer's website. Fraudsters have no chance to approach this data.